Welcome to the Destruction Derby Wiki!
This encyclopaedia is dedicated to the Destruction Derby series of video games.
258 articles, 896 files and 6,489 edits since March 2011.
We recommend users to use Mozilla Firefox to browse wikis and the web
About Destruction Derby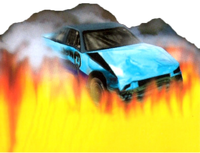 Reckon you can handle it?
The Destruction Derby (DD) video game series debuted in 1995, based around the real-life sport of demolition derby driving. It was concepted by Martin Edmondson, founder of Reflections Interactive.
The original DD game was an instant hit - for the first time, gamers could smash and wreck other cars, be it in a derby bowl or a race track, while encompassing a realistic damage system affecting the car's health.
As a pioneer of the genre, four sequels were released over the years on Sony's platforms, which includes ports to Sega Saturn and PC, and a licensed exclusive for Nintendo 64. The series was highly popular, and all the three PlayStation DD titles received platinum sales.
Did you know?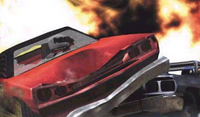 Some trivial facts about the Destruction Derby series
...that over 2.5 million copies of DD games were sold?
...that DD Raw is the only game in the series not to have a commentator?
...that DD2 is the only game to feature a pit stop?
...that the series was originally going to be called Demolish 'em Derby?
...that DD64 is the only game in the series where drivers have no names?
...that the first DD was one of the earliest games on the PlayStation to support the Link Cable?
...that DD Raw contains highrises that are used as a derby bowl?
...that DD Arenas contains several gameplay power-ups?
...that DD2 is the only game that lacks a real-time multi-player mode?
...that races in DD64 don't have any laps?
Developers
The people behind this wreckin' series
Psygnosis was founded in Liverpool in 1984 and later became known for its games on the Amiga platform. It was bought by Sony Electronic Publishing in 1993 whilst the PlayStation was still in development, and was part of Sony Computer Entertainment when it was founded in 1994. Psygnosis published the original DD as well as DD2 and DD Raw, and are also well known for other games during the era such as the Wipeout series and the Colony Wars series. Later merged and renamed to SCE Studio Liverpool, the studio sadly closed down in August 2012.
Reflections Interactive, now part of Ubisoft and known as Ubisoft Reflections, was founded in 1984. Based in Newcastle upon Tyne, the founder of the studio, Martin Edmondson, is the person that concepted and created the DD series. They developed the first DD and DD2, and later started working on the well-known Driver series.

Studio 33, based in Liverpool, was founded in 1996 by a former Psygnosis member. They developed DD Raw and Arenas, and at the time also developed several Formula One games. They were acquired by Electronic Arts in 2003 when DD Arenas was completed, with the team relocating to 'EA North West' in nearby Warrington.
Noticeboard
Blog entries
Create blog post
The first major change has been a redesign and a new logo (which I created from the font in Raw) which looks much more cleaner and stand-out than before. The main page has also had changes for the first time since 2015, including more matured text, removal of the Community Portal talk page (which w…

Read more >

Good morning, DD community! It's been a while hasn't it? I launched this wiki many years ago as the core place of Destruction Derby on the interwebs. It's fantastic that we got to this point with lots of content, created by me and many other contributors who joined here. I want to start by giving m…

Read more >
See more >
Help
Now where do I start?

If you are new to wikis, check out the tutorial.
To browse around the wiki, use the navigation bar at the top.
---
I have a question!
---
Adding content
Please read the Guidelines to acknowledge how this wiki is styled in terms of presentation and language.
Visit the Community Portal to see special pages in order to improve the wiki.
You may ask the admin if you have suggestions or want to request changes on the Main Page.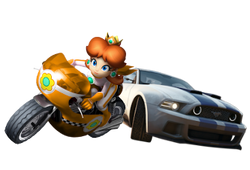 Vehicular Games
Go to these sites for info or for help with your own wiki!
Asphalt • Burnout • Choro Q • The Crew • Driver • F-Zero • Forza Motorsport • Gran Turismo • Mario Kart • MotorStorm • Need for Speed • Rocket League • Twisted Metal
Want your community included? See how!
See all of our Vehicular gaming wikis!